About
JX Ovulation Calendar is an effective assistant for any lady who wants to conceive or to avoid pregnancy. The program will even help you define your future child's gender.
JX Ovulation Calendar calculates the ovulation time and generates your personal menstrual cycle and fertility calendar. Just enter the length of your menstrual cycle and the last period's first day, and JX Ovulation Calendar will display your fertile days. The result will appear color coded, displaying fertile and non-fertile days.

JX Ovulation Calendar is an easy to use ovulation calculator for ladies.
Our ovulation calendar will help you conceive
Knowing your most probable fertile day of ovulation and knowing the ovulation time will help you find the best days for conceiving. Calculation of probability of conception is based on ovulation time and some other parameters, such as ovule and spermatozoon's lifetime. The calendar displays the most prospective days for conceiving.
You can select your future baby's gender
You can boost your chances to conceive a boy or girl by selecting the right time for sexual intercourse. This calculation is based on the fact that female's X-chromosomes live longer and are less active than are male's Y-chromosomes. Therefore, if you have sexual intercourse three days before ovulation, you have more chances to conceive a girl. If your sexual intercourse takes place closer to the ovulation moment, your chances to conceive a boy greatly increase.
You can avoid pregnancy
The natural way to avoid pregnancy is to abstain from unprotected sexual intercourse during your fertile days. The most "dangerous" fertile day is the ovulation day. JX Ovulation Calendar calculates your fertile days and considers your menstrual cycle's possible fluctuations to help you avoid unwanted pregnancy.
You can now add notes
The program allows you to add any number of notes for any date. You can use different fonts and colors in the note text and even insert images from files. You can set reminders to remind you about the note, so you will not miss an important moment.
You can use several profiles
All menstrual cycle's data and notes are now stored in an individual profile. You can create several profiles. For each profile, you can make individual settings for calculating menstrual cycles. You can switch between profiles through the menu or using a hotkey in the program's main window.
The program keeps the history of your menstrual cycles
At any moment of time, by simply opening your menstrual cycles history window, you can find out your previous cycles' start dates and other parameters. In that window, you can set a desired display period and view the graph indicating the change in the cycle length for that period. The statistics panel will also display the cycle's calculated average values, dates for cycles with the minimum and maximum length for the selected period. Here you can quickly edit any parameter for the selected cycle. Once any changes are made, the graph and the statistics will instantly refresh.
Now you can control your menstrual cycle in your mobile phone!
We are glad to present the new FREE JX Ovulation Calendar version for mobile phones.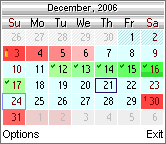 See JX Ovulation Calendar Mobile page for details.
Features of JX Ovulation Calendar:


Generate your personal menstrual cycle and fertility calendar;

Manage notes;

Personal profiles;

Menstrual cycles history;

Handy and easy adjustable interface;

Printing and ability to create print templates;

Program can be minimized to system tray;

Run automatically on Windows startup;

Multilingual interface;

XP themes support;

Easy and quick installation.